RELX Infinity is our first device to feature a compatible charging case. Now your vape can be stored, charged and ready whenever you need it.  
The Red Dot Design Award is an international design prize awarded by Red Dot GmbH & Co. KG. This prize has been awarded since 1955 and is given to products whose design is outstanding and innovative. 
The Red Dot Award for Product Design is one of the world's largest design competitions. This year, designers from over 50 countries submitted over 6,500 products in the competition. A jury observes each submission and assesses the products based on the criteria such as the level of innovation, functionality, formal quality, durability and ergonomics. Only the best designs receive an award.
The statement from the jury for RELX Infinity: "Sophisticated technology, implemented in a slender language of form, contributes significantly to the practical value of this e-cigarette."
Always and Everywhere Charging
RELX Infinity was built for the best possible vaping experience with its dual charging system. Battery life is important to ensure your vaping experience is smooth and reliable. You can fully charge Infinity in 45 minutes, so it is ready for you in essentially no time at all. When you need to charge, simply click it into the wireless case and you can have up to 3 extra days of battery life. No wires, just peace of mind.
We designed this vape with you in mind. The wireless charging case is slim and stylish, so it can fit in your pocket with ease. This case is not only a vape charger, but also a carrying case. Since Infinity is being stored in the case, it also ensures your vape is kept clean when taken along on the road. And, don't worry, if you ever leave the case behind, you can still quickly charge RELX Infinity with a USB-C charger.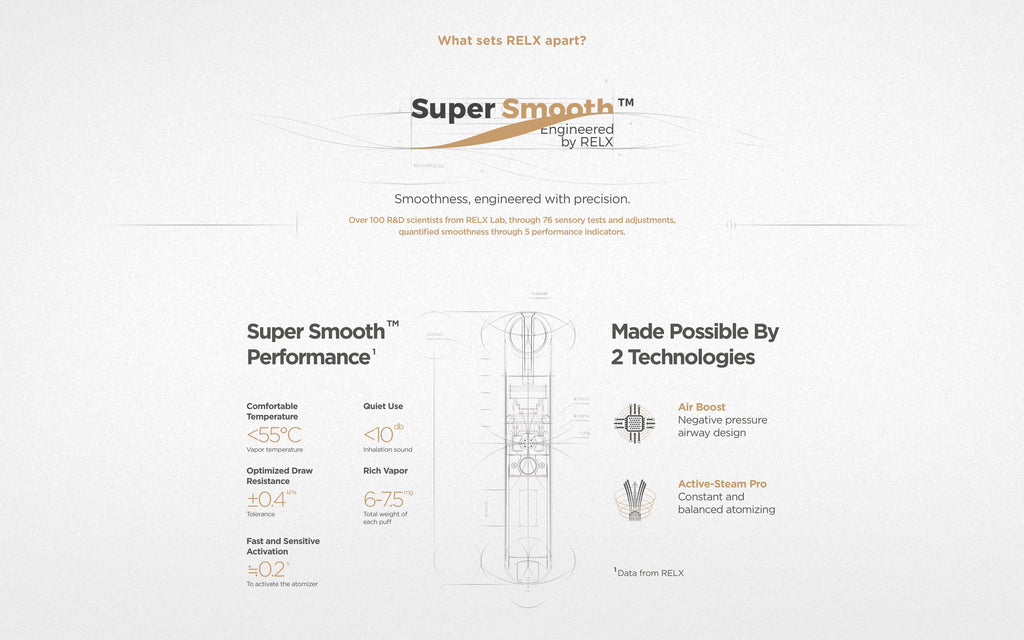 RELX Infinity Product Information
Infinite Utility, Infinite Reliability, Infinite Taste
RELX Infinity was perfected through 59 design experiments and endured testing on over 12,000 pods to ensure leak-resistance and quality standards. RELX has submitted patent applications for over 53 innovations used in this device, including its leak-resistant design, RELX Pods Pro and the wireless charging case. 
All aspects of RELX Infinity were designed to deliver an intuitive experience, a Super Smooth mouthfeel and leak-resistant reliability.  
RELX Infinity is smooth from start to finish every time you vape. This is made possible by two key RELX technologies in the unibody vape: the Active-steam Pro and Air Boost design. Active-steam Pro achieves a consistent vapor volume and quality by actively balancing and controlling both atomizing power and temperature; while the aerodynamic Air Boost design creates negative pressure that pushes the vapor up from the atomizer. 
We also engineered the next generation of ceramic pods, RELX Pods Pro, to resist leaking with 11 structural layers and help prevent internal leaks by trapping any condensation in the intelligent maze-like structure. Your vape pen will be ready every time you need it without a mess to clean up. Whenever and however you travel, Infinity is equipped to withstand the changes in pressure.  
RELX Infinity also has a built-in SmartPace Alert system to enable you to vape moderately. If you take over 15 puffs within 15 minutes, the device will send a notice in the form of a slight vibration to notify you.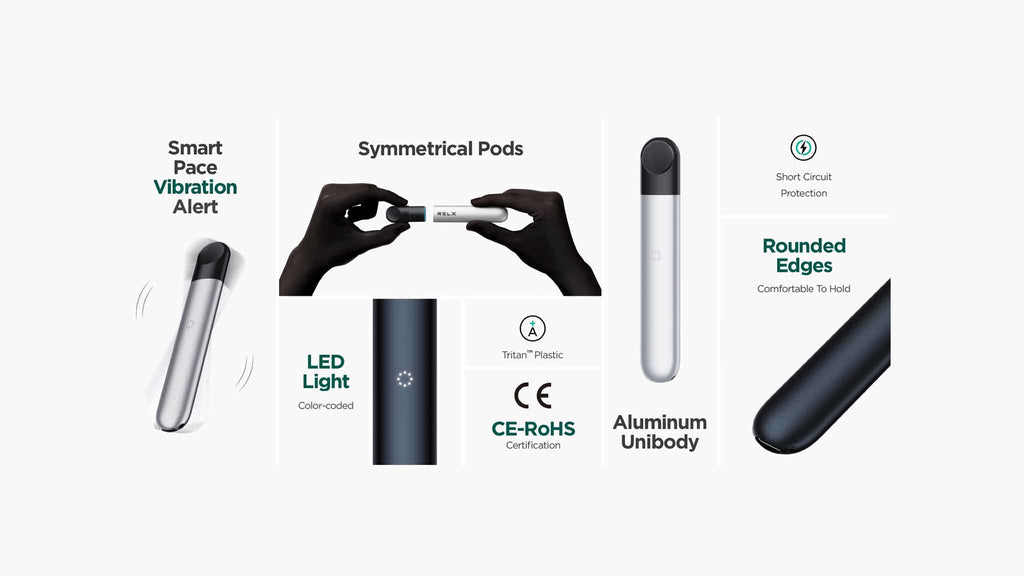 RELX Infinity Product Function
Switch to Smooth with RELX Infinity
Super Smooth is our performance standard and this applies to your vaping experience as well. With RELX Infinity, you can worry less about a leaking vape, running low on power or any unpleasant taste and focus more on the important things. 
More About Us
RELX's products are not just simple vaping devices. They are cutting-edge accessories that represent the most advanced generation of vaping technology. RELX also offers vaping starter kits for people who want to transition away from smoking. Our vaping devices and products combine elegant and modern designs with an innovative, next-generation technology to provide you with a reliable and stylish replacement for cigarette smoking.